After working on Kashmir conflict for years, filmmaker and activist Talat Bhat, is now turning his focus on Sweden through his own struggle against injustices and oppression in his upcoming documentary Rocking the Birger Jarl.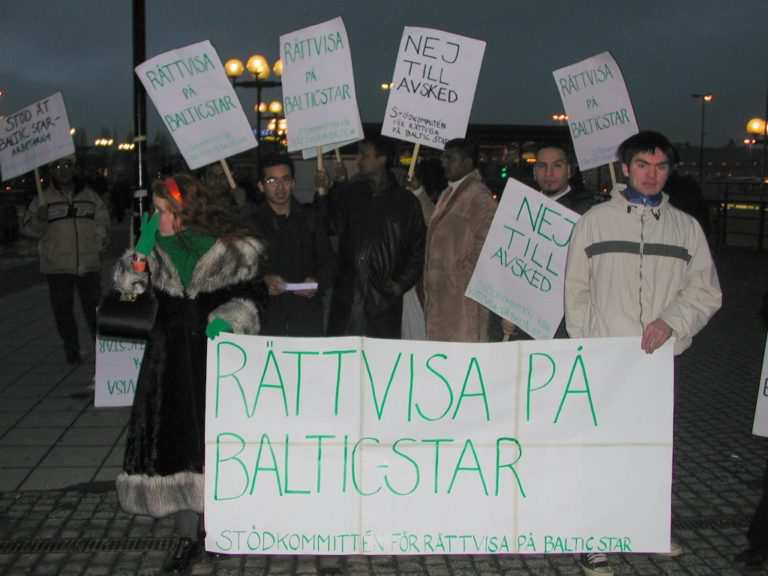 Young Talat Bhat (fifth from right) protesting with fellow workers.
Earlier Bhat has been the producer of Bring Him Back – a documentary that depicts the story of a Kashmiri freedom fighter Maqbool Bhat's mother. Maqbool was hanged to death in 1984 and secretly buried by the Indian authorities. His mother has been struggling to regain her son's remains.
Talat left Kashmir for Sweden in 1997 to work on board M/S Baltic Star, where many of the crew workers came from Pakistan and Kashmir, among them his own father.
Even if everybody officially worked under the same terms and conditions as the Swedish workers, the reality was different. Talat and his compatriots were forced to work longer shifts and for much lesser salaries. When they pointed this out they were threatened with redundancies. Still, they managed to push forward some improvements. But in 2002 M/S Baltic Star changed the name to M/S Birger Jarl. There was also a change of flag: from Panamanian to Swedish.
The struggle then came to be about securing work permits for the non-Swedish crew, which succeeded, but in 2008 the owners were encouraged to terminate the contract of all the workers from outside the European Union, in order for the company to be eligible for subsidies.
Among others, Talat's father was also fired after 20 years on board. When they got no help from the largest union of sea workers SEKO, they joined the Syndicalist union SAC and started to organize blockades and boycott campaigns. They did not win. The workers lost their jobs, but all of them were granted permanent residence in Sweden. Talat filmed all these protest on board M/S Birger Jarl.
Afterwards, he did a MA in Media Production in Britain and started his career as documentary filmmaker. Presently, he is a member of RåFilm, a filmmakers' collective, which strives to combine film making with political activism.
"The words of Maqbool Bhat inspired me," says Talat. "They got true meaning through our struggle against slavery and exploitation."
Bhat was born in 1938 in Kupwara, Jammu and Kashmir. During the 1960s, and was part of organizing the struggle for an independent, secular and united Kashmir. He was among the founders of Jammu Kashmir Liberation Front (JKLF). The fear of Bhat becoming a symbol of resistance in Kashmir is still so strong that India continues to refuse returning his remains to his family.
"Maqbool Bhat said that freedom is not only about getting rid of foreign occupation, but also about getting rid of hunger, poverty, ignorance, sickness and to overcome economic and social deprivation," says Talat.
While he has huge video footage of struggle on board Birger Jarl, he still needs more resources to be able to finish the project. Therefore, he has initiated a crowdfunding-campaign in order to finance it.
Currently, Talat is travelling around Sweden and EU to present his work. "The crowdfunding-process will also be a part of the movie," he adds. "I am constantly filming and am hoping to be able to be finish early next year."
His previous works on Kashmir have attracted audience from various parts of world. Talat sees life as a filmmaker and activist intertwined. A documentary about the struggle on board M/S Birger Jarl is not meant to be only a historical document. "The first victory in 1999 was huge," says Talat.
"Our salaries were doubled and we got vacations and salaries paid retroactively. I hope this film can inspire more to unionize and fight back. Not least immigrants and undocumented workers. They are the layers within the working class that are the easiest to exploit and abuse. I want them to see the message of this film: That struggle really can lead to victory, despite all odds."
The crowdfunding-campaign can be found at:
https://www.generosity.com/community-fundraising/documentary-rocking-the-birger-jarl–2
On birgerjarl.info, Talat has put together all the information about the ongoing process, including an archive of articles written at the time for the struggle. More information at www.birgerjarl.info
*
Erik Haking is a freelance journalist based in Stockholm and can be reached at This email address is being protected from spambots. You need JavaScript enabled to view it.
Courtesy: http://thekashmirwalla.com/2016/06/from-kashmir-to-sweden/